Transforming a workplace into an eco-friendly or "green" office does not have to be costly and cumbersome.
---
Eco-friendly products, services, and solutions can be easily integrated into your workplace. It involves choosing and working with the right people and adopting new habits and technology to save you money — and save trees.
Companies that rely on outdated technology are hamstrung with inefficient, costly maintenance and will end up spending more money. And improperly formatted print jobs of large quantities and high density content can waste valuable resources. A memo published by the U.S. Navy explains, "Printing in duplex (double-sided) mode saves the government money on paper costs and reduces the number of trees 'consumed' by agencies. The estimated average savings is less than one cent per page, but that can add up to government-wide savings of $61 million annually, plus an estimated 546,850 trees saved.[1]"
[1] Source: Dept. of the Navy – https://www.doncio.navy.mil/ContentView.aspx?id=4714
---
Choosing the right equipment and software can help your company save money and resources. Modern office equipment has a great variety of replaceable components and office productivity functions.
---
Laser Printer
The three main components for an office laser printer to function properly are the drum, the developer and the toner. In the case of HP printers, these components are built as a 3-in-1 unit; all three components (drum, developer and toner) are sold and installed as a singular unit. Once the toner is depleted, the drum and/or the developer is still intact and has unused mileage. In many cases, offices will discard the entire unit, resulting in unnecessary waste.
Today, these partially used units can be returned to HP or the original manufacturer at no cost to the customer. All new units include prepaid shipping labels for the purpose to ship these units back to the manufacturer to be refilled, refurbished and reused.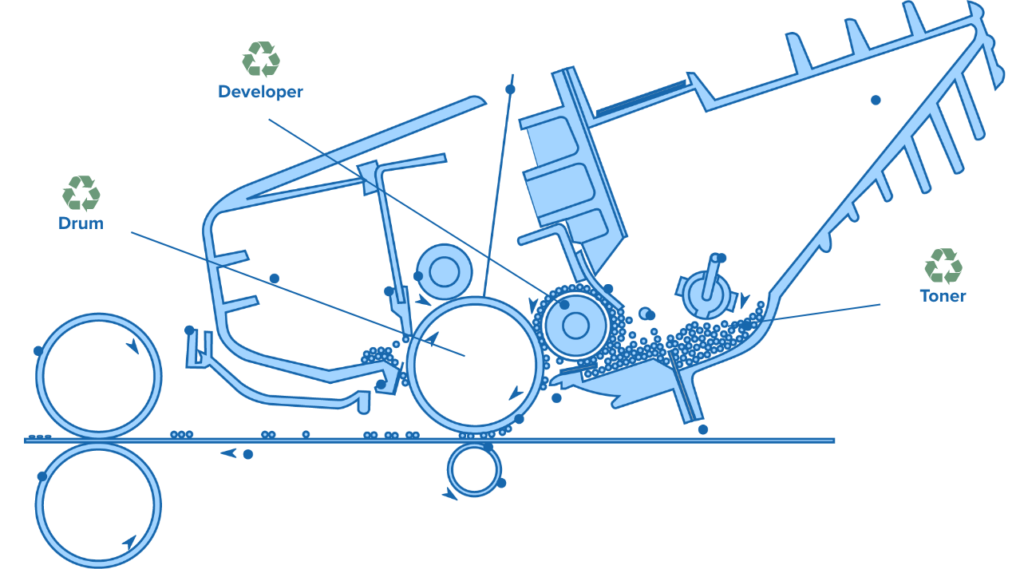 Paper Usage
In addition to savings on replaceable components, getting your office to adopt duplex printing can save in printing supplies by reducing waste. Young Solutions has been successful in implementing automatic duplex printing, as well as "nudge" notifications to print in duplex.
While some team members did not like the automatic duplex settings, we found that if they were presented with a "nudge" notification suggesting that duplex printing is an option after the system detected more than 2 pages, they would agree to it.
From our data collected, we saw increase in duplex printing usage across all print managed offices!
By changing the command to a "nudging" or "suggesting," rather than an automatic change to the command, more workers chose to adopt the duplex printing.